New Here
I'M NEW

WELCOME - Welcome to Immanuel. We're glad that you are interested in visiting us. Our mission is to allow God to use us to advance the Gospel message "for his glory, for the world, for our city, and for you!" We believe that God has a unique plan for our church and we are excited about the possibility of partnering with you as we seek to honor God with each life, in every family, and in our church.
If you wish to view our church's beliefs and core values, click here.
If you would like to read about our vision and mission, click here.
SUNDAY MORNING SCHEDULE
On Sundays, we offer small group Bible studies and one worship service.

9am (Bible Studies)
10:30am (Worship Service - Childcare provided for children from birth to preschool. Children who are in K-6th are encouraged to join their families for service.)

For more information on our Bible study options for our adults, click here.
MAP & DIRECTIONS
We are located on the corner of University and Tanglewood in Odessa, TX. click here for a Google Map.
CAMPUS MAP
Not sure where to go when you get here? Check out this map and know where you're headed before you step foot on-campus.

CLICK IMAGE TO ZOOM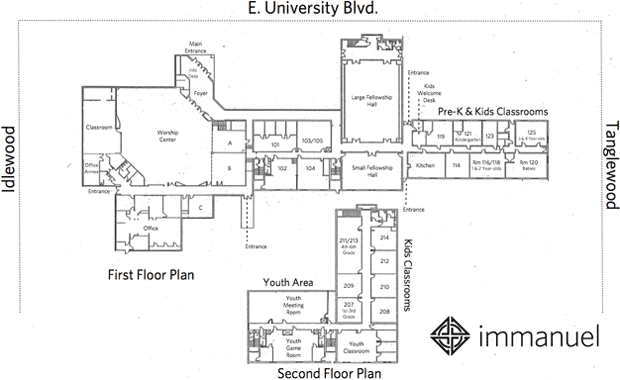 Quick Contact Information
Immanuel Baptist Church
4020 E. University Blvd.
Odessa, Texas 79762
PH: 432.366.4439

Weekly Schedule
Sundays:
9:00am Bible Study
10:30am Worship
Mondays:
9:00am Mother's Day Out
7:00pm Precept Bible Study
Wednesdays:
9:00am Mother's Day Out
6:30pm AWANA (Children's)
6:30pm Replenish (Adults)
6:30pm Thrive (Students)